Full Mouth Restoration in Forest Hill, Toronto
Full mouth restoration involves your dentist in Forest hill diagnosing, treating, and restoring an array of dental problems. Many patients have simple cavities or chipped teeth that can be repaired with a filling or bonding material. However, some patients may have dental problems that are more extensive and may require multiple procedures to remedy. For instance, if the patient is suffering from decay, gum disease, and missing teeth, our Forest Hill dentist may recommend to treat the decay, and offer dental bridges or implants for the teeth, and non-surgical gum therapy for the gum disease.
Depending on the specific dental problems that you experience, we will create a personalized full mouth restoration treatment plan that is tailored to your needs. During your appointment, we will examine your teeth and gums. This will be done through personal methods such as Dr. Paul Deratnay performing an oral examination. However, it will likely include using digital X-rays to examine parts of your mouth beneath the gum tissue. We will also review your oral and medical history to see if there is any additional information they can provide to us.
After gathering all the appropriate information, we will discuss your options with you to determine the ideal course of action to work towards restoring your oral health.
Some of the treatments that we can offer during a full mouth restoration are:
Bonded fillings to treat decay and damage

Dental crowns to restore heavily damaged or decayed teeth

Dental bridges and implant restorations in Forest Hill to substitute missing teeth

Porcelain veneers to cover stains and close gaps on the surface of a tooth

Non-surgical gum therapy to treat gum disease

TMJ treatment to treat symptoms of TMD such as migraines or a clicking jaw

Laser gum therapy to remove excess gum tissue

Root canal therapy to remove and restore damaged dental pulp
Dr Paul Deratnay, our Forest Hill dentist, will help you address the oral issues affecting your health. You can contact us to schedule an appointment, or request one online.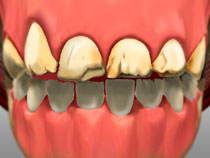 Last Updated On
2021-10-20