Amalgam Free Dentistry in Forest Hill, Toronto
Dr. Paul Deratnay is able to provide amalgam-free procedures to suitable patients seeking certain procedures that can be done by a cosmetic dentist in Forest Hill.
Traditionally, decayed and problematic teeth were treated with amalgam fillings. Amalgam fillings can be made from various materials, including silver, mercury, and copper. Dentist have been using amalgam in dental restorations for the past century and a half.
Dental amalgam is safe to use in procedures and may be a suitable method to treat issues affecting your oral health. However, some patients may still not feel comfortable having amalgam placed in their teeth. Some patients may also experience an allergic reaction. However, this is rare and you should discuss the treatment with a dental professional such as your Forest Hill dentist if you have any concerns. Studies on the safety amalgam show that amalgam is safe to use in most adults and children 6 years of age or older.
Dr. Paul Deratnay strives to provide our patients with oral healthcare that suits their needs. We offer amalgam-free dentistry to treat oral health issues without the use of amalgam materials. Some of the amalgam-free alternatives include composite resin and porcelain.
Gold treatments typically provide more strength and durability than amalgam-free options, but are more noticeable. Your dentist in Forest Hill will often recommend these for back teeth since those are less noticeable and sustain heavy chewing loads. In comparison, porcelain and composite resin can be customized to resemble your tooth's natural shade. They can also be used in most instances that an amalgam treatment can. However, each person's situation is unique and you should discuss with a dental professional if you have any concerns.
Composite and porcelain fillings can be used in the treatment of a variety of dental issues such as cavities, chips, and cracks. In addition to fillings, we are able to provide other amalgam-free dental services such as dental bridges, dental crowns, root canal therapy, porcelain inlays & onlays, and implant restoration in Forest Hill. Dr. Paul Deratnay will work with you to determine a treatment that is suitable to your needs.
Contact Dr. Paul Deratnay, your Forest Hill dentist, to schedule a consultation today. We are open five days a week and are happy to answer your questions.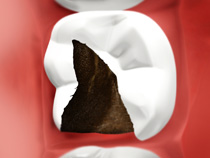 Last Updated On
2021-09-18